Upcoming Events
Annual Events
Past Events:
2011
2010
2009
2008
2007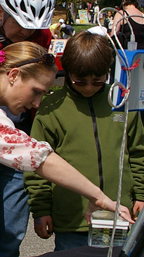 California
Climate Change
Conference
Global Warming Discovery
Hands-on Science
Part of:
America's online library
for education & research
in Science, Technology,
Engineering, Mathematics
Upcoming Events
On-Going Events

Cal/EPA Live Webcasts
For Example: California`s Energy Future - The View to 2050
Held, July 15, 2011
Panelists from: LBNL, EPRI, CIT, Sandia NL, Stanford, UC Davis & Berkeley
Recent Events




NASA/JPL Climate Day 2011: October 14
NASA / Jet Propulsion Laboratory-- Climate Day of 2010
Students, teachers, families, scientists, press
Last Held March 26 and 27, 2010
Pasadena Convention Center: Conference Center Lower Level
Map Flyer Nasa/JPL Site
NASA, COSEE, AQMD, ClimateChangeEducation.org
Hands-on science demonstrations, exhibits, talks by scientists, animations
competitions, career information, teacher and community resources,
Town Hall Meeting.

Annual Events [Beyond those annual events above]
More Annual Events
Examples of Events in Past Years

Boy Scouts of America -- 100th Anniversary Jamboree
Hands-on Climate and Energy Science
ClimateChangeEducation.org, NASA, Chabot Space and Science Center,
Solar Schoolhouse, more. Held April 16 -18
Largest hands-on science event in Northern California in 2010.
Alameda County Fairgrounds --26,000 attended




AAAS's Family Science Days
America's Finest Annual Hands-on Science Event
ClimateChangeEducation.org, with: NCAR, NASA,
California Center for Sustainable Energy, Birch Aquarium
National gathering of climate & energy science demo's.
Featuring Pasco Scientific and Vernier Software & Technology
Serious hands-on demonstration fun: kids, scientists, families, teachers,
students, artists, TV and newspaper reporters -- all together! 2010 Photos
What Science Education Can Be.
More Past Events