New Academy

Lawrence Hall of Science at
UN World Environment Day 2005
Governor's Historic Address

ClimateChangeEduc'n.Org
invites science centers to
be part of booths at
events like these.
While the museums
below were not able to
send staff to be with us
in the AAAS conference
booths, we did highlight their programs on climate
change and/or energy
for the public at
Family Science Days.


Tech Museum
Birch Aquarium

San Diego EcoCenter



Monterey Bay Aquarium

California Academy of Sciences booth: When it returns to Golden Gate Park in 2008, the academy's new home will be the largest public green building in the U.S. -- itself an exhibit to how we can stop global warming.
Global Warming Discovery, as seen in the AAAS stage show, is also a public program at the California Academy of Sciences-- where outstanding high school interns regularly present the demonstration to the public.


California
Academy of Sciences
San Francisco
=Feature Page=

The New Academy: LEED Platinum Green Building.
Itself an exhibit about stopping global warming

Exhibits, hands on demo,
lectures, teacher training...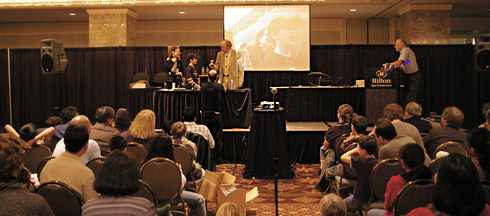 Exploratorium stage show at the AAAS Family Science Days. The Exploratorium broadcast live web casts on Climate Change from the American Geophysical Union conference in San Francisco: like the 2007 AAAS Conference, an example of the wonderful things that happen when science conferences and science museums work together to connect with the public.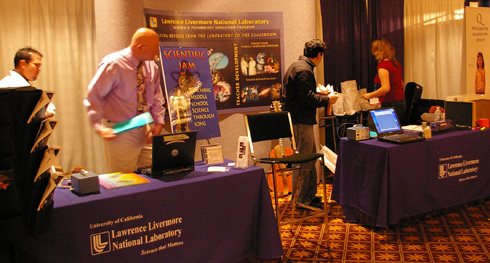 Lawrence Livermore Lab, within the University of California, is involved in education programs on climate change and energy. This includes a teacher training program working in partnership with Cal State East Bay. (formerly Cal State Hayward)



AAAS's Family Science Days, with dozens of booths, was attended by thousands on Saturday and Sunday February 17 & 18, 2007. These web pages focus on those booths with material relating to climate change, energy and global warming solutions.



The University of Idaho's booth included a demo on the production of biodiesel fuel.



University of Idaho's biodiesel car.